It is possible to make a plasma nitriding device with any dimensions and with the ability to perform nitrogen-carborizing and supplementary oxidation processes in Pars Plasmapazhouh Co. Plasma nitrogen generators are divided into two main categories: cold-wall and hot-wall.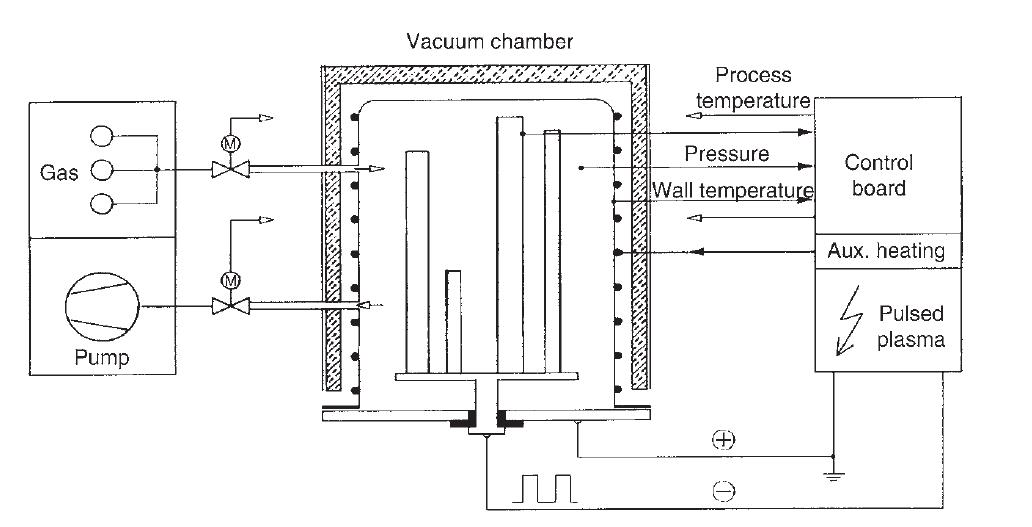 In cold wall devices, the heating of the parts is done only by the plasma generated in the vacuum chamber (ion bombardment) (the vacuum chamber wall is hydrogen); Whereas in hot wall devices, the heating of the parts is done both by the plasma generated inside the vacuum chamber and by the heating elements installed on the chamber. Cold wall fixtures are usually cheaper and easier to maintain. Nevertheless, due to the following advantages, the use of hot wall devices is recommended:
Very good temperature uniformity (unity) inside the vacuum chamber;
Possibility of nitriding of parts with different dimensions and shapes in one furnace charge;
The possibility of creating low-energy plasma and reducing the effects of phenomena such as hollow paper and sharp edges.
Hot wall and cold wall furnaces with different dimensions are made in Plasmapazhouh Pars Company and it is possible to make both types of furnaces for the customer.
Specifications (specifications) and benefits of furnaces manufactured by Plasmapazhouh Pars Company
Plasma power supplies made by Plasmapazhouh Pars Company are bipolar and all pulse characteristics in them such as frequency, duty cycle, number of positive and negative pulses, etc. can be controlled;
Using an internal fan in order to achieve uniformity of gas and temperature in the vacuum chamber;
Full oven automation and installation of necessary warnings to prevent damage to the furnace and parts;
All process parameters such as intra-chamber pressure, component temperature, flow rate and gas ratio, process time, etc. are controlled automatically by the device controller;
Flexibility in design according to the type and dimensions of customer parts.